Vel Ile de Ré, a family business that combines quality and friendliness
Like many young people, our professional experiences and studies led us to leave the Ile de Ré ... but as soon as the opportunity arose we returned to see our family on the island.
So the day Anthony's father needed help with his bike rental business on the Ile de Ré, we didn't hesitate for a second. Goodbye metro, greyness and pollution! From 2012 to 2017, we worked in the family business, La Route à Vélo, in La Flotte.
We discovered the business and in a few years were able to gain good experience and retain our customers. This period allowed us to appreciate the quality of life on the Ile de Ré and our little family grew with the birth of Helios in 2014 and Olympe in 2016.
It is quite natural that at the end of the 2017 season, we wanted to stand on our own two feet and gain our independence by opening our store. We were lucky to be able to settle in an emblematic place, known to all residents, the Chauffour garage at La Flotte.
The Chauffour family opened the very first bike shop on Ile de Ré. During our installation, we even found an invoice dating from 1926! Imagine our pride in being able to relaunch the activity after they close for a well-deserved retirement.
We had the place, it only remained to find a name for our store. "Vél Ile en Ré" was simply suggested by loyal customers who followed our journey.
Today we continue to take a lot of pleasure both in our activity and especially on the Ile de Ré which offers us the opportunity to enjoy our passions horse riding, motorcycling, walks in the great outdoors with our dogs who rarely leave us.
They are a bit like the mascots of Vél Ile en Ré and you will get to know them, particularly Manga, a 3-year-old Bernese mountain dog who does not go unnoticed given his size.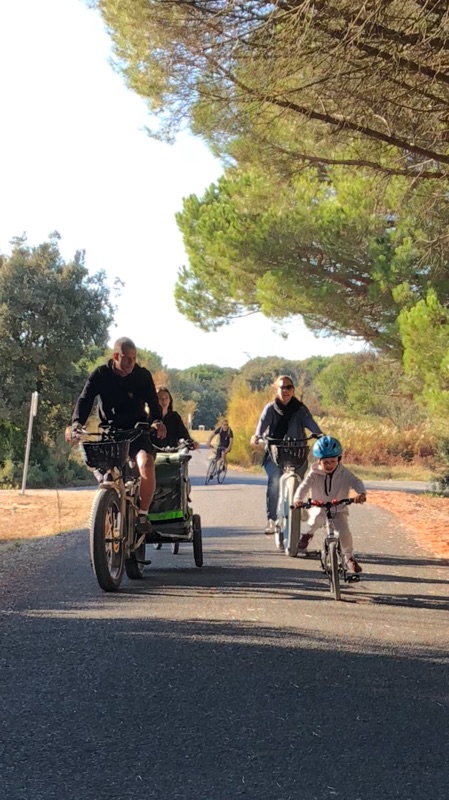 "Choose a job you love and you won't have to work a day in your life"
There is an expression that characterizes us very well "Choose a job that you like and you will not have to work a single day of your life".
It is for this reason that our store is open all year round. What makes us get up every morning? Our children, the dog walk then of course the contact with our customers and the exceptional view of the seafront that we have when we take out the bikes every morning! Why choose Vél Ile de Ré? Vél Ile en Ré is a family business and we would like to welcome you with ease in a good mood.
With us, you are not a number on a booking voucher. We know the first names of many customers, some have seen our children grow up and have even become friends over the years! Our new products for 2019: We have chosen white and brown bikes to stand out and we also offer scooter rental. Looking forward to welcoming you and advising you, Laurine and Anthony